Bank holiday weekend. It's our wedding anniversary. It doesn't matter what the date is.
TSK was ill, I was nursing my own infection so on Saturday I spent 2 hours at the NHS disposal, waiting in the waiting room of the walk-in clinic. Sunday was spent feeling sorry for myself on anti-biotics and thinking I really shouldn't go out and spend my wedding anniversary with Mr Landslide... but by Monday I was ready to make up for lost time so I set out from home at 9:30 and rode out to start the long loop of the Peak 200 at Dunford Bridge, where I broke off my last Peak 200 attempt. I did not realise that was 30km under my belt right there.
The next task was eating. Hatfield arrived at lunchtime. There was one egg sandwich left on the shelf in the fridge at the corner shop. I can't abide eggs. I bought 4 rolls, cheese and an entire jar of pickle. I ate 2 of the sandwiches, saved 2 for later and couldn't give the pickle away. I did try.
This lady looked after me at lunchtime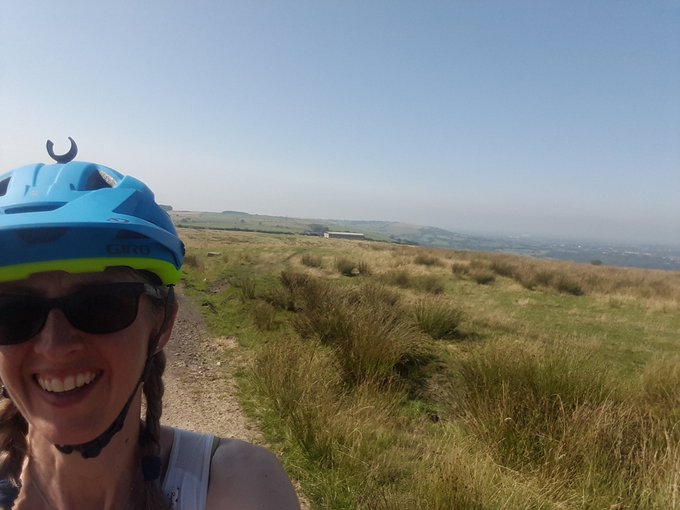 That's Manchester in the smog
The weather was blissful if you like warm things. I was doing OK with it. I'd been really careful to wear plenty of suncream. The new lid worked OK at venting and made me a little more secure my scalp wasn't getting burned. The lanes and bridleways out of Hatfield and Hayfield later were much longer than I remembered and I enjoyed it immensely though acknowledge that I would have struggled through them for a very long time if I'd kept going from Dunford bridge last time. It would have made for one miserable ride.
Once back in the Peak proper and riding back across Rushup edge, I really started to overheat. It was 4pm - often the hottest part of the day here - so I stopped under a tree and ate the leftovers from lunch including a large drink of water. I'd already consumed a lot at gate-stops and now I drained my camel bak.
One dog walker passed whilst I hid from the sun


I pressed on through Peak Forest and Bakewell stopping finally to fill up my bottle at the station at Miller's Dale. A family were barbequing and tried to give me free spicy sandwiches. Very kind but I was loaded and didn't really want to risk food of unknown providence. I had a rest at the benches then continued on my way, watching Girl Guides abseilling off the viaducts and enjoying the cooling breeze coming out of the railway tunnels.
Back on the moors and heading towards the Peak Trail I found myself getting rather wobbly. The sun hadn't quite set on a bivi spot I have been eying for some time but I had to be in work on Tuesday so I needed to get as close to home as possible before stopping.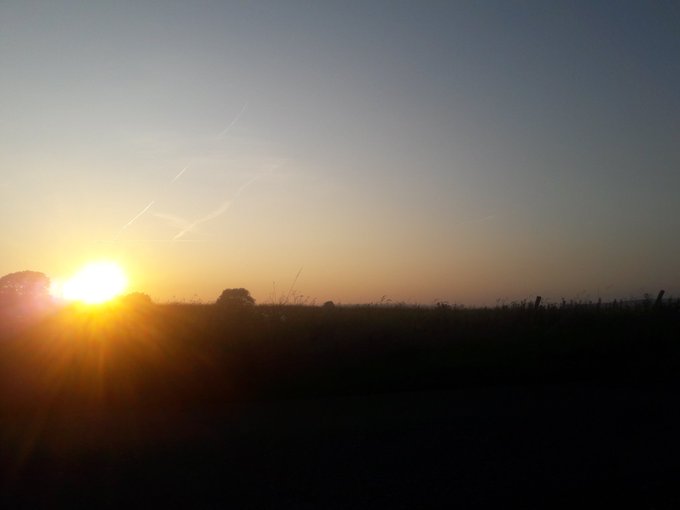 Getting hungry, I sat in the driveway to a field and demolished popcorn at sunset listening to skylarks
Instead I continued to a coaching inn I have used before on the railway path. I got there just as the kitchen was closing and they agreed to do me one more meal since I was alone. I made myself comfy on table 1 then made my excuses to get away from the cussing teenagers and "sit where I could see what I was eating". I'd had a good glugg of my pint before I remembered that I still had to take my last anti-biotic - oh well, I was feeling better. Hopefully the poorly was gone.
Food tasted Reeeehheeeeely good.
The darkness came and table 12 suited me well as I finished my dinner in the cooling evening air instead of in the hot, stuffy pub.
I paid up and set out back onto the path and into the darkness. A fine mist had descended and the grass glistened back silver. The air was wet and heavy and I put on my coat to keep the cold at bay. A stark contrast from Landslide riding at 10pm in his tee shirt. The big open path gave way to more climbing and pockets of warm air as I battled towards Bakewell where we got married years ago.
The zips on the coat went up and down depending on conditions. At the top of the climb above Bakewell I rode around in circles in a field for a while trying to find my way out. Looking back at the map I was in the right place all along but went off-path. At least I'll know for next time. It's a shame as it would have been a nice ride through Chatsworth in the dark.
Instead I ended up bailing in to Bakewell then jumping back on the Monsal Trail North to Haddon where I climbed over the wall to get out of the carpark and ride up the road to Baslow. As I passed through Pilsey, I decided on the simple solution to sleeping of pitching a bivi on a bus stop bench. It seemed perfect - quiet, dark, not a soul around. I hadn't been passed by a car all the way from Bakewell.
I got settled down with the sleeping bag about 12:30 and all seemed well except I used my Camelbak as a pillow then very quickly drank its contents to keep the cramp at bay and had to supplement with my coat as well.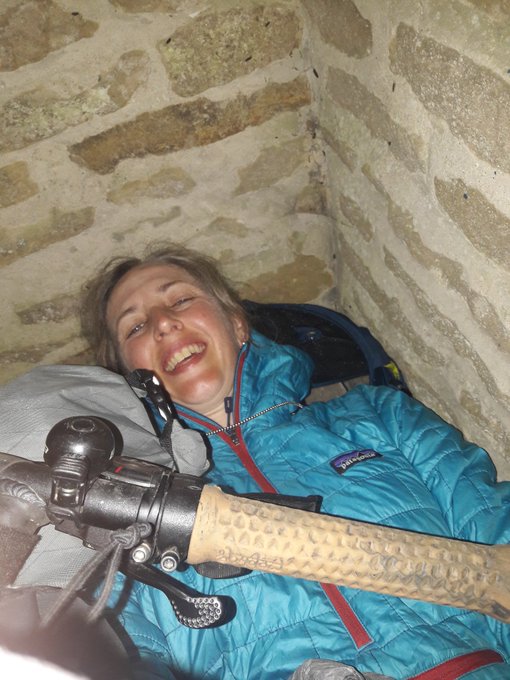 At 1am a car drove past which I thought would be useful to know how much light pollution I got. The simple answer was none as everyone going that way seemed to turn into the village. Unfortunately that prick had no control over his car alarm.
It went off about 3 times between 1am and 3am and the street light came on at 2am (WTF!!!) so I spent the night trying to balance my hat on my face. Between 3am and 3:30am the car alarm went off 3 more times, at which point I started to think seriously about getting up and moving. Every time I sat up though, lying back down again and putting up with it seemed like the better option. An ambulance passing was the only other traffic and whilst the blue lights disturbed me, the car alarm persisted at 4am and I realised that if I got up and moved, I could at least make it to the top of the Edges for sunrise. So I put the coat back on to see me to the bottom of the hill and packed up my shits.
Indeed the descent into Baslow was arctic. Somehow I at least managed to "camp" just above the fog line. I rode past the Cavendish with a fine layer of droplets on my skin. I rode up to the stone bench half way up Baslow edge before stopping for another snooze and to take the coat off but then the promise of sunrise kept me moving to the tops, this time on foot. I dispensed with Baslow edge in a milky pink glow before getting half way across Curbar to fire up the stove, pull out the coffee and porridge and making myself an excellent breakfast with a view.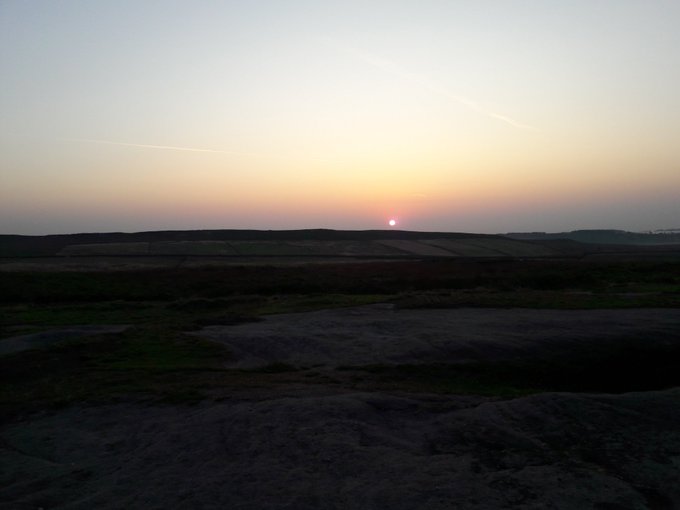 Curbar sunrise
Departure from the edge was accompanied by a Wheater and a hawk perched an the outcrop high above the valley floor. I wish my brakes had been quiet enough to photograph it but I knew it would have been long gone so savoured the mental image. The passage along the edge was, at least, swift as there were no other walkers about.
At Longshaw I gave up on the route in favour of making a beeline for home, shower and going to work. In one last yeaahaw I savoured the descent of Wyming Brook and the freewheel down the A57 amongst the commuters, just to remind myself how lucky I am to do a job that doesn't require me to be anywhere at 9am on a Tuesday morning (not every day anyway).
There's no big finish to this post. The Peak 200 is still unfinished business and my working day was a mess. I spent my lunch hour sleeping in the back of my van in 30 degrees heat - sweating whatever moisture was left in me in to the van mattresses - my coat and overalls covering my body so no-one would disturb me. It's distressing how heavily I slept in those conditions. I went home at 4pm. Work has messed up enough of my personal time for it to work the other way around for once so I feel no guilt.
Total distance in the end: 93 miles. Half of the climbing for BB200 but in 3/4 the distance so I'm happy with that. Looks like October has no excuses.