A sneaky check of my phone at the work Christmas do and there's a text from my buddy Karl, randomly asking if I want to do a 600 this weekend.
Excitement runs riot. The last 600 I did, I failed miserably - 5 hours out of time due to howling winds in my face for the first 200k. Here's a speedy wheel to sit on but, guys, like, December!
I SAY I'll look at the weather in the morning and decide. I return to the party and mostly forget about it.
A number of pokes later over text, despite 3 degrees temps, rain forecast, more howling winds, I still have major FOMO. I doubt I can manage a 600 this weekend. If I am physically able is one thing, but I have a new starter at work on Monday, I'm in charge and I would be doing both her and myself a disservice to come into work exhausted. SO I do the right thing, check my maps and make a plan to meet Karl part way into his ride with my own plan to get home from somewhere like Donnington, on the return leg on Saturday. I need to get a December bivi in and I decide that this weekend is as good as any other which may end up colder or wetter.
The hardest part was eking out an extra two hours in the office on Friday night but a bit of faffing got me out the door at 6.45 to pump up the tyres I put on the night before and hadn't quite sealed yet. Straight onto the Northbound bike lanes by Meadowhall and then a lot of navigational faux-pas as I tried to pick up the old Woodhead road much earlier than usual. The Garmin got sworn at a lot and eventually I resorted it mountain bike trails I know through Greno woods, culminating in me pushing the fully loaded Tripster, Dignity, up a steep gravel trail. Highland Trail training well and truly commenced.
Next, the Trans Pennine trail, studiously joined at the muddiest section. It must have been chilly because the tunnels felt warm and welcoming.
As soon as I got out of the embankments around 8.30 I turned the phone on for a bit. I was trying to meet Karl at 9.30 and I only had 10k to go across Silkstone common to join his route.
"In Greenfield, I'll get there as soon as I can". He was a little late but that was fine, I re routed Northwards a bit to meet him sooner, planning to come off the trail at Penistone and head straight North towards Shepley.
I also realised I'd foolishly left work without a plan to eat, though a 3 course Christmas dinner at work was a good substitute, I now had time for some food.
I propped up my bike by the chippy window in Penistone and chatted to kids and parents just leaving the local orchestra practise.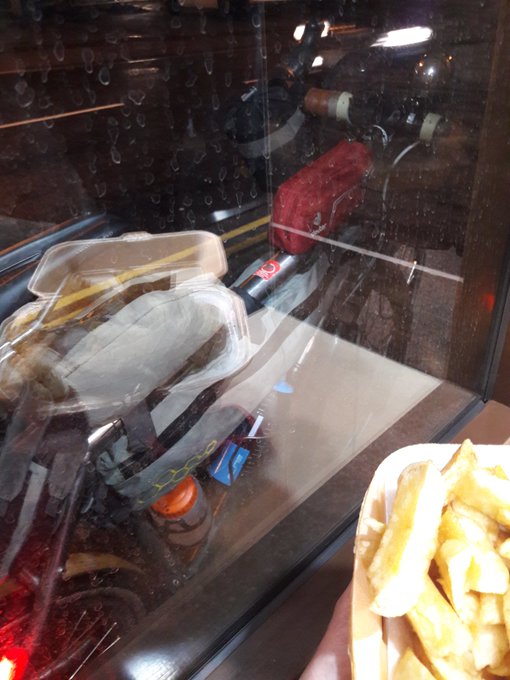 Sainsbury's next to get some snacks for the road. I couldn't get my cable lock to work as the combination got fubar'd some time ago so I used the ziptie lock and rushed in and out again, the area riddled with boy racers and drunk teenagers. My total haul was a bag of M&Ms and a 6 pack of popcorn which I stuffed in every available orifice of my bike bags, leading Karl think I had more stuff on my bike than I really did. That's what happens when I pack with 48 hours notice.
Onto Royd moor and the wind started to build up. Mostly it was cross-ways but when I turned into it, I was standing on the pedals with all my might to get up the slightest of hills. I'd killed a lot of time in Penistone and now progress was painfully slow. I topped out about 10pm and, looking around for somewhere to stop, spied a petrol station, seemingly in the middle of nowhere, down the hill from me.
I decided to stop there to check Karl's spot and see where he was.
As I rolled into the forecourt, a blue Tripster awaited, signatory bikepacking gear dangling. I had no idea what bike he rides on the road but what are the chances of some other loon being out at 10pm with a loaded bike, half way across the Pennines in December? Sure enough, a friendly van driver pointed me towards the coffee machine where my wheel-date was waiting with a hot coffee. Timing could hardy have been more perfect.
Coffee'd up we set off into the night under the guide of the pink line on the map for an absolutely ripping descent, traffic free and tail wind assisted.
We talked for hours, catching up on our BB200/300 experiences and about Highland Trail (mine just reccies) stories.
Sometimes it's great when the ride is the uneventful part and I was mining for information.
There was a railway crossing for some brake servicing and a fenland track to be navigated in the dark which led us to a very attractive-looking fisherman's shed. Tempting as it was, it was too early and too cheeky to break and enter and bed down across the drain from the house, with a clearly marked 'private property' notice outside.
We threaded through villages, stopping occasionally for me to switch routes as I had accidentally downloaded the 6 segments off the website but the segments took us along more pleasant lanes so wasn't entirely wasted effort.
Around 2am we both conceded we 'probably' should stop soon as I had stopped chatting for the first time in 5 hours and gone a bit quiet. Yes, reader, I looked down at my Garmin to see it was 1.35am then realised that was the distance to go to the end of my Garmin segment (1.35 km). It was actually 3.30am and I laughed at the fact I was no more tired than if I'd gone to a friends house and sat on the sofa drinking wine and chatting till 3 am. This says as much about the tail wind we'd had as it did about the fact we'd only spent 5 minutes together since May.
Still, with 1km to go and still buoyed by enthusiasm to ride on, we were struggling to find a bivi spot as everywhere looked kind of wet. A few churches looked promising but they were finely regaled in bright Christmas lights and near to lively-looking local pubs or busy roads.
Soon, though, the brown signs started to appear for Hessle country park. With parks come picnic benches offering dry surfaces or dry under-surfaces.
We pulled in. It wasn't the quietest and definitely not dark with a full moon and street lighting but the trees gave enough cover and there was the promise of morning toilets. The picnic benches had been dried in the breeze but I opted for the damp floor which was well drained and soft whilst Karl took to the bench itself to... I dunno, practice sleeping on a precipice?
We each bedded down, discussed the relative merits of sleeping under moving branches then slinked off into our own cocoons, me vaguely aware that I was starting to drown on something distinctly cold-like. I did not fall asleep easily, though I was warm and cozy. For a while my face remained exposed - as much as it can with a hat pulled over my eyes. I fidgeted somewhat but my brain was still buzzing from the evening's entertainment and the exhilaration of staying awake on the bike for so long.
The joy was soon replaced with anxiety as the breeze in the park changed and picked up. The wind rushed through the suspension cables on the bridge and I worried that our passage in the morning might be impaired by a closed bridge - should we have bivi'd on the other side?
It got a bit chilly with the bivi inflating in the new wind direction so I zipped over my head and opened the side zip instead, glad I'd chosen to sleep close to the ground - boundary layer fluid dynamics floating round my brain as the lights went out.
I told Karl, like every great new friendship, I'd hate him in the morning when he woke me up. I was awake before him but stayed where I was for a while, hoping he would just get up for a pee and go back to bed, but no, he rustled the bivi and my snoozing was over.
I had a proper good faff to get going. My schedule isn't quite as honed and my sleeping bag is far fluffier. My priorities centred around popcorn consumption and a long hike for a pee as the warden was occupying the ladies' toilet. Karl's theory - that the warden was more scared of us than we were of him - seemed well founded as he cowered behind the steel bars and sent me slinking off into the undergrowth for a private pee and change of leggings away from enthusiastic runners and dog-walkers.
An hour later, we were in a café in Hessle, tucking into a breakfast and so much tea, the owner regretting opening his door so early. Given the lack of veggie breakfast I tucked into a selection of "extras".
And so the bridge! Slightly less terrifying than crossing the Severn, there was more space, less traffic and a glorious low sun which made everything just a bit gorgeous, especially Karl's pirate impressions (cough).
I can't remember when the day stopped being fun. We had second breakfast at which I started to contemplate quitting earlier than planned but agreed that there was no point until I'd eaten something. The cake was wonderful but the coffee was awful. I hatched a plan to keep going till I'd had enough. At least within easy riding of the route were: Gainsborough, Boston, Lincoln, Sleaford, Nottingham, Derby... etc. - all of which had stations leading back home.
At 1pm we found a pub for lunch which was very fine. Both of us were a bit done-in and we loitered a bit over rehydration and sugary drinks. My nose dripped with increasing frequency and my body started to feel a bit heavy. Coming outside to a flat-ish tyre wasn't great but the pressure went back in so we set off again. I spent a lot of time staring at Karl's back tyre ahead of my own then staring at his left sock as I sat in the sweet spot slightly left of centre, cowering from the wind. I checked the speed radars: with me on my own I was cracking out 10mph. At least in his slipstream (when he managed to ride slow enough), we were managing 16mph.
Eventually I tired (pun) of the view - there's only so long you can stare at a sock - and we diverted onto a minor road (my route again) to get off the main road that was forcing us to ride single file. At least on the back-road we could ride side by side and enjoy the scenery as we (I) tore our (my) knee ligaments apart.
When we got to Gainsborough, I knew it was time for me to quit. I felt weak with a head-cold and my right knee was just struggling. Whilst I tried to insist on sending Karl on his way, he seemed more up for ditching the dual carriage way we'd found ourselves on, and diverting through town to navigate me to the station, saving me a frustrating Garmin search. We said our goodbyes and I set off up the platform to check where the train that was sat there was headed. Sheffield - NICE!
So, whilst Boothy carried on valiantly into the evening, I warmed up at the hospitality of First Great Western whilst eating more popcorn and M&Ms, in between blowing my increasingly drippy nose and dot watching.
I was duly delivered to Sheffield station (after a good 40 minutes sleep restoration) where I rode up the steep hill to home quicker and easier than any head-wind I'd battled against that morning.
On loading my ride to Strava I clocked myself a QOM - in the category of "no woman in her right mind has brought a bike up that". A tiny Avenue I'm sure I've been up before on a bike, but there you go, now I rule it alongside some bloke called Simon.
So no brilliant and glorious finale to my 12 of 12 Bivis a month, just a quiet (conversational) limp through. It was exceptional to finish the year off in company, freshly motivated by resolutions and advice and general scab-picking over options and choices for the HT.
This weekends ride did what some BAMs before it have done - got me out when I didn't necessarily feel like it and shaken me about, blown the cobwebs off and taught me something. With the winter ride coming up, I'm anticipating an ongoing theme...
Till then, it's cloth badge time.